Digital Marketing Services
Check off every single "to-do" item on your online marketing list, discover new ways to generate new leads, and enjoy the growth of your business.
Do you want more traffic to your website?
Hello, we're Downwind Digital. Our sole purpose is to help your business expand. This screenshot is a glimpse into what we're currently doing for clients, and what can be done for you. The only question is, what are you waiting for?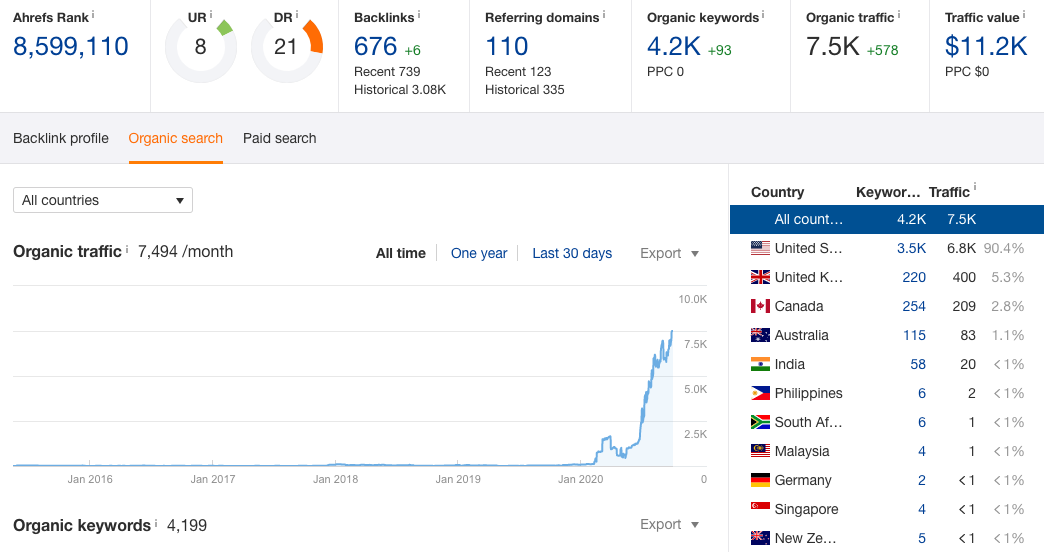 We're a creative powerhouse ready to take your business to the next level.
Search Engine Optimization
Learn More
Our strategy combines all aspects of an SEO campaign, including on-page SEO, off-page SEO, technical SEO, local SEO (if needed), and content marketing. We've found that including all these elements together is a surefire way to increase your traffic, leads, and revenue. However, if your site only needs certain task items we'll tailor a unique plan just for your business.
We know keeping up with the latest algorithm updates can be a daunting task as Google is constantly changing and evolving, which is why we make it easy for you. Our seasoned strategists come prepared for whatever Google throws at us, and internal collab meetings ensure we're responding timely and accordingly.
Learn More
We design and develop websites as they should be; with the end-user in mind, end-users being both you and your customers. Our developers build your site on an easy-to-use content management system that's simple to manage for anyone on your team.
We begin with a thorough assessment of your top competitors, industry trends, and discuss a look & feel for the site that you're comfortable with. We then have a specific timeline of when you can expect the work to be finished and prep it for your approval. After gaining your go-ahead, we take the site live on a secure server and are there to ensure there are no post-deployment issues.
Learn More
Too many businesses are creating AdWords accounts, writing "catchy" ad copy, and expecting to get leads. This, however, typically results in over-spending, low quality scores, and no leads whatsoever.
Our paid media strategy stems from years of a/b testing, creative ad copywriting, and advanced targeting methods. We start with an in-depth multi-channel audit that covers everything your competitors are doing and we identify exactly what's working. Then our strategists go to work creating compelling ad groups directing traffic to perfectly optimized landing pages that are built for conversions.
Learn More
Our SEO-driven content marketing strategy features a three-pronged approach:
Content strategy
Content creation
Content promotion
First, we analyze your vertical to locate high-value ranking opportunities and popular content topics that data proves you can beat. Then, we build content in a way that is sure to outperform your competition. Lastly, we build premium links to the content to maximize its visibility.
Learn More
We focus on more than just page likes and clicks, we help you create genuine, long-lasting relationships with your core customers and target audience on various platforms.
We also understand that not all platforms work for every industry, which is why we rip apart your vertical to get a better understanding of what is currently working and then put our team to work – because unique content is great, but if it's not reaching the right people at the right time, it's useless.
Conversion Rate Optimization
Learn More
A lot of people can increase your traffic through various techniques, but the question is, does that traffic convert to leads and/or sales? Increased traffic is great, but if it's not converting, the traffic is useless.
Our CRO services focus on just that; conversions. We do this by observing how your visitors interact with your website and then identify areas for conversions – this can be in the form of a call, form sign-up, inquiry, or sale. After aggregating this data, we begin testing different elements on the page to locate what brings the best results.
Hit the Ground Running
You'll get short-term quick wins and long-term results. Let's grow together.